If you need to replace any of the locks in your home, office, or vehicle for other reason, ASAP Locksmith is the company you can rely on.
We specialize in changing and fitting all types of locks for residential, commercial, and automotive.
Having years of industry experience under their belt, our highly experienced and well-trained locksmiths know exactly how to handle the replacement of even the most complex mechanisms.
Our technicians carry a wide range of locks with them to help our clients choose the lock that suits them most on-site.
We make sure to change each lock with the absolute accuracy and perfection so that it operates at peak efficiency for the longest time possible and provides the security which it is designed to deliver.
Every person needs to protect what's important. Every lock's first function is to keep your premises safe.
24/7 LOCKSMITH SERVICES – CALL US: (866) 550-5625
Our Lock Change Services:
We offer a full range of lock change services including;
Mailbox lock change
Front door lock change
Garage door lock change
Gate lock change
Safe lock change
Car door lock change
File cabinet lock change
Doorknobs lock change
Lever handle lock change
Room lock change
Office lock change
Store front lock change
Change any existing lock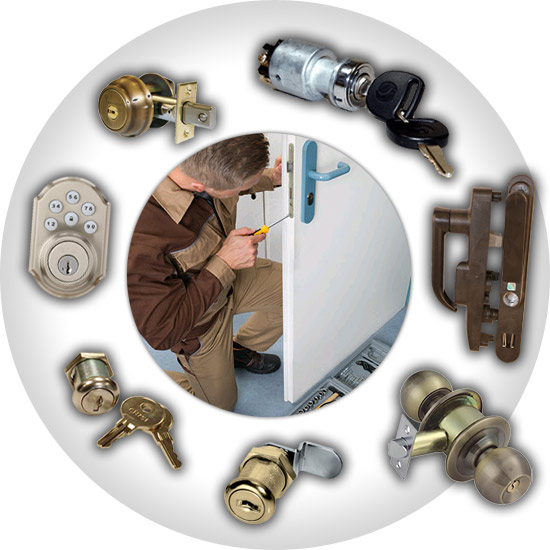 The Lock Replacement Process
In response to your service call, we will send one of our locksmith technicians to serve you.
Our locksmith will assess your faulty mechanism to assess whether it is repairable and offer to fix it if possible.
If your lock is damaged beyond repair, he will assist you in choosing the lock of type, style, and brand.
Once you get a lock, he will dismantle your old lock and seamlessly replace it with the new one.
The average time for a lock replacement is 20-30 minutes. However, depending on the type of lock, it might take less or more time.
The Cost to Change a Lock:
A lock change job involves a number of variables, including the type of lock already in place, the one that you want to change it with, and the time or day you call us; therefore, it is hard to predict the exact cost.
However, our technician will let you know about the estimated cost of the job and proceed to work only after your approval.
Fresh Lock Installation in Los Angeles
We are not only known for carrying out lock replacements with excellence but you can also rely on us if you need a fresh lock installation service in Los Angeles.
Our technicians have experience, expertise and equipment to perform installation of any type of fresh lock to absolute perfection.
Learn more about our fresh lock installation services here.
Schedule a Service:
Whatever the reason you need a lock replacement service, ASAP is your best bet. We remain open and ready to serve 24/7 our clients for emergency lock replacement.
Reach out to us at (323) 306-3291 to schedule a lock change service with us.
When you choose to work with us, you can rest assured knowing that your lock replacement will be handled by expert locksmiths who will perform the job with the utmost care and won't inflict any damage to your door.