We at ASAP Locksmith take pride in offering efficient yet affordable door closer installation and repair services to both our residential and commercial clients.
With years of experience under their belt, our technicians have the expertise needed to handle issues of any complexity and extent in all kinds of door closers, including overhead door closers, concealed door closers, floor-spring door closers, surface-mounted door closers, and heavy-duty door closers.
Door Closer Installation
Regardless of the type of door closer you choose, if not adjusted and installed properly, it can not only lead to problems like unpredictable door movement and slamming of the door but may also cause damage to the doorframe and shorten the life of the door. Therefore, it is important to call in experts at professional locksmiths to get the job done in an efficient and professional manner.
Our technicians always use the right tools and techniques to install the door closer with utmost precision and perfection so that door opens and closes smoothly, silently and gracefully every time and the hardware functions at its full potential over a good period of its life span.
Door Closer Repair
Though door closers are generally known for their robustness and reliability, they need to be examined regularly for leaking fluids, proper attachment, and strength of operation for diagnosis and repair of minor problems at an early stage. If you notice any of these problems, don't wait any longer to call us.
Wobbly or Noisy Doors
If your automatic door closer rusts, it is likely to become noisy and squeaky before eventually getting stuck and becoming useless. Fending the noise off by lubricating the door closers, won't resolve the problem permanently. Call in our experts, they will diagnose the exact cause of the problem and provide a long-term solution.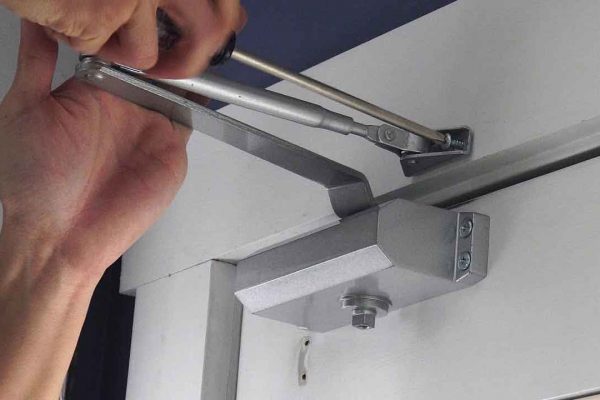 Slamming of the Door
If your door closer is slamming the door and you aren't able to adjust it, otherwise, there is a good chance that its valve seals are worn out. Call us right away. Our technicians will repair broken seals and replace broken O-rings and missing screws to restore your door closer to optimal efficiency in no time.
Call us Now ; If you ever find yourself in need of a door closer service, look no further than ASAP Locksmith.
Give us a call us at (323) 306-3291 and let us know how we can help you.
No Spring Tension
If your door closer has no spring tension, it is most likely due to a broken spring that needs to be replaced.
The Door is Not Closing Fully
If your door closer fails to fully close the door or if its springs back when the door is tried to shut manually, there is a chance that the arm on its shaft might not be installed correctly.
Oil or Hydraulic Fluid is Leaking
If you find that if oil or hydraulic fluid is leaking from your door closer, repairing it would not be possible at this stage, and it is advisable to get a new door closer.