Good and optimally functional locks are your first line of defense in your property.  However, years of natural wear and tear, frequent use and break-in attempts can compromise the integrity of a lock's mechanics, making it not only difficult to operate but also turning them into a security risk. 
A door lock may start to malfunction for a wide variety of reasons. However, it does not mean you have to replace the entire mechanism and it could be repaired if partially stuck or broken.   
Depending on the type of lock and extent of damage, a lock may need to be disassembled and complex repairs might be required; therefore, it is best to leave the job to expert professionals. 
We at ASAP Locksmith specialize in repairing both residential, commercial and automotive locks.  
With years of hands-on experience, our technicians are capable of repairing virtually any type of lock problem imaginable.  
The experts always take time to thoroughly assess the problematic lock to determine what exactly has gone wrong with it and let you know whether a repair or replacement is an appropriate solution.  
CALL 24/7 LOCKSMITH SERVICES: (866) 550-5625
We at ASAP Locksmith make sure we provide you with the best skilled locksmiths any time.
Our Locks Repair Services:
The range of our locksmith services include;
Mailbox Lock Repair
Outdoor Lock Repair
Window Lock Repair
Garage Door Lock Repair
Entry Door Lock Repair
Keyless Lock Repair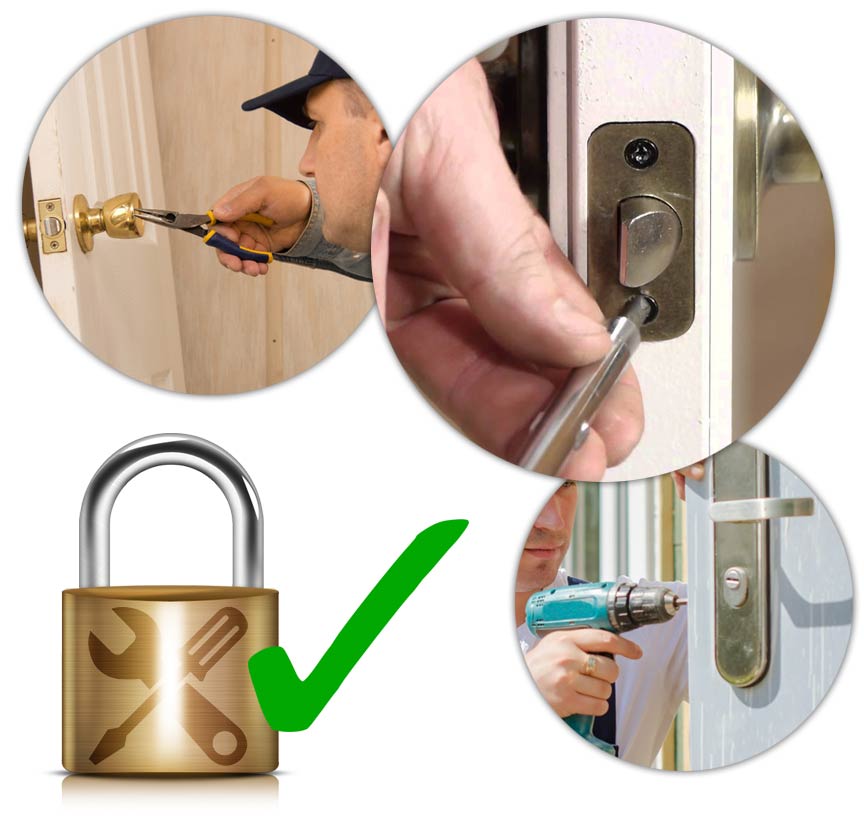 Reasons You May Need to Repair Your Lock: 
Here are some of the common reasons you may need to repair your lock.
Lock Won't Engage: If your door won't lock when you turn your key, chances are there that the door latch isn't aligned to the strike plate affixed to the door jamb. Most often, the problem can be resolved by making some adjustments to the door screws or hinges. However, in some cases, the strike plate may need to be adjusted in order to bring all the parts back into proper alignment. In either case, our technicians can immediately fix the problem to restore the functionality of your door.
Key Won't Go in: If your key won't go into the lock, the problem may be due to a build-up of dirt and debris inside the cylinder. We have specialist sprays in our toolkit that allow us to clear the blockage from a lock instantly.
Key Won't Turn: If your key enters the lock but won't turn, the chances are that your lock may be seized. Forcing the key to turn may cause it to break inside the cylinder. Call in our locksmiths. They will remove the blockage using a silicon spray or other appropriate tools to bring the lock back into optimal working order.
Loose Lock: Every component of your lock needs to function right in order to operate smoothly. If any of them does not line up, it may cause damage to the lock and even result in complete mechanism failure. Even if you get the door locked, you might not be able to unlock it again.
Whether you are experiencing a loose lock, knob, and handle, our experts can diagnose and fix the problem in no time.
Lock Cylinder Continuously Turning: If your key turns in the cylinder, but the door does not open the lock, there is a good chance that the set screw is loose or damaged. Even if you manage to unlock the door, you mightn't be able to lock it again. Give us a call, and our technicians will do whatever necessary to restore your lock to optimal efficiency.
Request a Service:
If you notice one of the above or any other problem with your lock, don't wait around until it becomes completely unrepairable and turn to ASAP Locksmith right away.  
We remain available 24/7 to address all your emergency lock repair needs and put your security back on track.